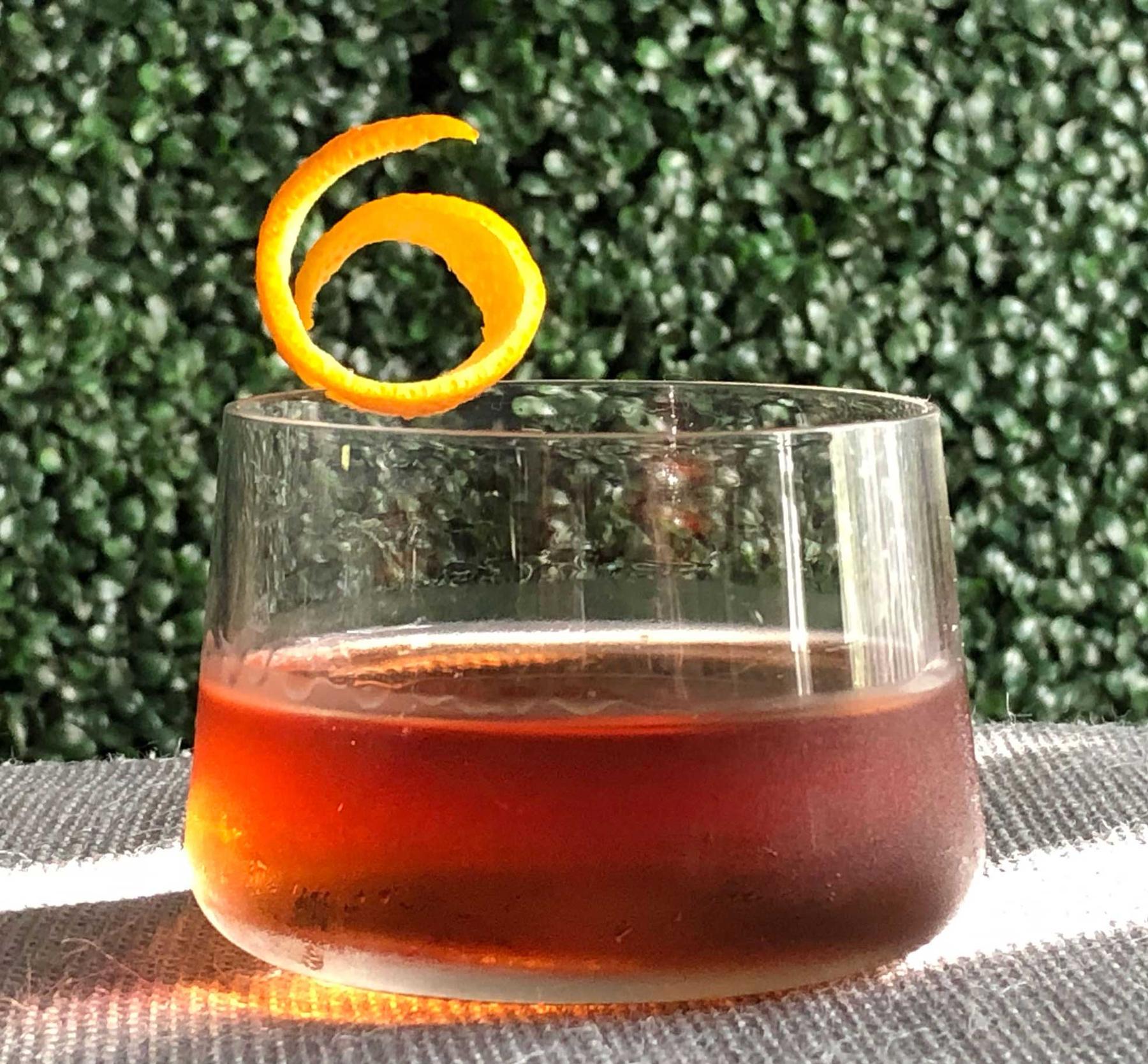 Pat's Old Friend
Prepare a double rocks glass rinsed with Rothman & Winter Orchard Apricot Liqueur.
Stir with ice:
1 oz Bonal Gentiane-Quina
1 oz Hayman's Old Tom Gin
1 oz Mas Peyre Rancio Sec "Le Démon de Midi"
0.125 oz grenadine
Strain into the prepared glass.
Garnish with an orange peel.
adapted from the Pat's Special, Savoy Cocktail Book
Quinquina/Chinato
Bonal Gentiane-Quina
16.0% ABV
Since 1865, this spicy, earthy aperitif has been known as "ouvre l'appétit" - the key to the appetite. Serious in its role as an aperitif, and then popular with sportsmen, Bonal became an early sponsor of the Tour de France. It is made by an infusion of gentian, cinchona (quinine) and renowned herbs of the Grande Chartreuse mountains in a mistelle base. While tradition is to drink neat with a twist, Bonal also mixes well with fresh or hard cider, sparkling wine, and Scotch or American whiskies. Excellent with hard, salty cheeses, salted nuts, or earthy, spicy foods. Full details
| SKU | Vintage | Region | Origin | Desc | Cepage | % Alc | Size/Pack | Finish | BTL Barcode | Cs Barcode | Cs Wgt |
| --- | --- | --- | --- | --- | --- | --- | --- | --- | --- | --- | --- |
| HZ 9555 | NV | Savoie | FR | Quinquina/Chinato | | 16.0% | 750/12 | T Cap | 3274510003920 | 13274510003828 | 17.10 kg |
Rancio Sec/Vi Ranci
Mas Peyre 'Le Démon de Midi' Rancio Sec NV
France ➜ Roussillon ➜ Côtes Catalanes IGP 17.0% ABV
17.0% ABV • Fully Oxidized, Oxidative
The Bourrel family inaugurated this solera of overripe, old-vine Macabeu grapes in 2005. Grapes are harvested by hand at 254 g/l residual sugar and, placed into the first of three barrels, are allowed to slowly ferment to dryness. Subsequent elevage in the partially-filled barrels creates an oxidative environment; bottled at an average of six years of age, the 'Démon de Midi' (noonday demon) takes on notes of almond, garrigue honey and leather, with a touch of salt emerging at the finish. Full details
| SKU | Vintage | Region | Origin | Desc | Cepage | % Alc | Size/Pack | Finish | BTL Barcode | Cs Barcode | Cs Wgt |
| --- | --- | --- | --- | --- | --- | --- | --- | --- | --- | --- | --- |
| HZ 6842 | NV | Roussillon | FR | Oxidative/Oxidized Wine; Dry | Maccabeo | 17.0% | 750/12 | cork | 3760145230782 | N/A | 15.60 kg |
Fruit Liqueurs
Rothman & Winter Orchard Apricot Liqueur
Austria ➜ Oberosterreich 24.0% ABV
24.0% ABV
Rothman & Winter Orchard Apricot Liqueur combines juice from the seasonal harvest of Austria's famed Klosterneuberger apricots with an eau-de-vie produced from this same fruit. Destillerie Purkhart selects its apricots each season from family orchards in the Danube Valley and surrounding regions. Use wherever "apricot brandy" or "apricot-flavored brandy" appears in a recipe, drink with sparkling wine or wheat beer, or substitute for triple sec for a Margarita variation. Full details
| SKU | Vintage | Region | Origin | Desc | Cepage | % Alc | Size/Pack | Finish | BTL Barcode | Cs Barcode | Cs Wgt |
| --- | --- | --- | --- | --- | --- | --- | --- | --- | --- | --- | --- |
| HZ 7000 | NV | Oberösterreich | AT | Liqueur; Fruit | | 24.0% | 750/12 | screwcap | 9024153040479 | 9024153040402 | 16.30 kg |
Gin/Gin Liqueur
Hayman's Old Tom Gin
England 41.4% ABV
41.4% ABV
Hayman's Old Tom Gin is a rich and rounded style of gin that was the gin of choice in the 19th Century, made to the family's original recipe as then produced. Relative to London Dry Gin, the Old Tom style imparts a more complex and flavorful taste experience, with a slight sweetness that pleasantly rounds out the botanical base. From the 10 Hayman's botanicals, the Old Tom Gin emphasizes juniper and two types of cinnamon. Old Tom gin is the key ingredient in classic cocktails such as the Martinez, Tom Collins and Ramos Gin Fizz. Its depth and rich profile make for an ideal Aviation or French 75. Full details
| SKU | Vintage | Region | Origin | Desc | Cepage | % Alc | Size/Pack | Finish | BTL Barcode | Cs Barcode | Cs Wgt |
| --- | --- | --- | --- | --- | --- | --- | --- | --- | --- | --- | --- |
| HZ 1200 | NV | England | GB | Gin | | 41.4% | 750/12 | T Cap | 5021692117833 | 5021692117840 | 15.80 kg |