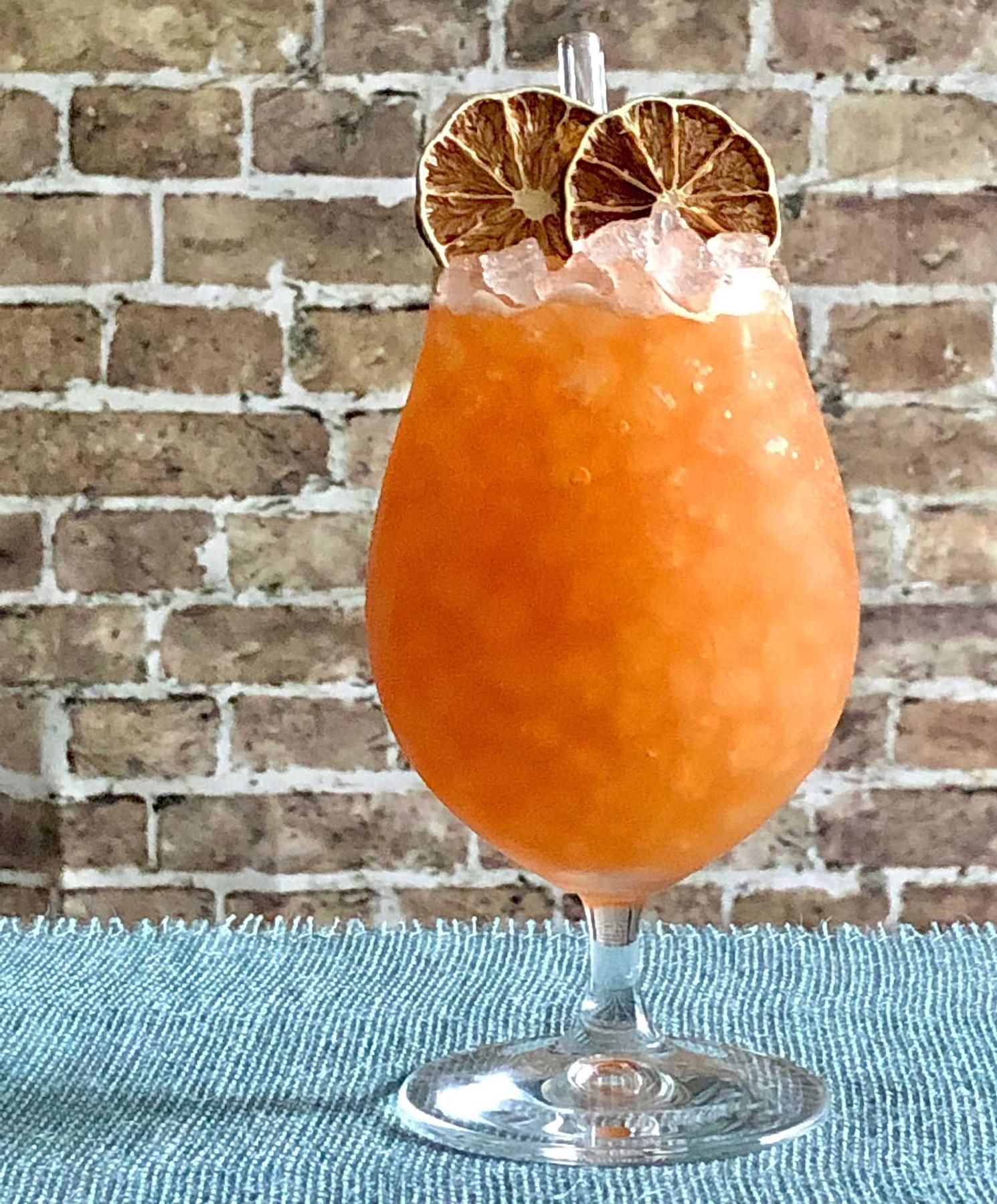 Anna Skytte's Raid
Prepare a snifter rinsed with St. Elizabeth Allspice Dram and filled with crushed ice.
Combine in a shaker:
1.5 oz KRONAN Swedish Punsch
0.75 oz rye whiskey
0.25 oz Smith & Cross Traditional Jamaican Rum
0.25 oz Becherovka
0.33 oz lime juice
2 dash Angostura Bitters
Shake with ice.
Double-strain into the prepared glass.
Garnish with a lime wheel.
Luiggi Uzcategui, Big Orange, Little Rock, AR
Smith & Cross Traditional Jamaica Rum
57.0% ABV
Smith & Cross Jamaica Rum contains only Wedderburn and Plummer pot still distillates, famous for their notes of caramelized banana, exotic fruits and spice and earthy finish. This is old-school rum, without the now-common influence of other wines and spirits, chill filtration, excess dilution, or added sugar. The complexity and flavor depth of this Navy Strength (57%) rum makes it a cornerstone of classic rum drinks, and the best Jamaican rum for providing the richness that punches and Tiki drinks require. The mark of Smith & Cross traces its lineage to 1788 as one of England's most prominent handlers of Jamaica Rum. Full details
| SKU | Vintage | Region | Origin | Desc | Cepage | % Alc | Size/Pack | Finish | BTL Barcode | Cs Barcode | Cs Wgt |
| --- | --- | --- | --- | --- | --- | --- | --- | --- | --- | --- | --- |
| HZ 8050 | NV | Jamaica | JA | Rum | | 57.0% | 750/12 | T Cap | 5021692500949 | 5021692500956 | 14.80 kg |
KRONAN Swedish Punsch
Sweden (Java, Jamaica, Guyana) 26.0% ABV
26.0% ABV
Swedish Punsch is a liqueur of two histories—a national drink in Sweden, and a component of more than fifty classic cocktails. Made with rums from the West Indies (Demerara and Jamaica) and East Indies (Batavia Arrack) and numerous spice and bitter flavors, KRONAN has exceptional depth and complexity, particularly with a bit of citrus added. Use in the Doctor Cocktail, Diki-Diki, and Mabel Berra cocktails. With ice and a squeeze of lime, KRONAN is an ideal and easy afternoon drink, after dinner, or with cigars. Full details
| SKU | Vintage | Region | Origin | Desc | Cepage | % Alc | Size/Pack | Finish | BTL Barcode | Cs Barcode | Cs Wgt |
| --- | --- | --- | --- | --- | --- | --- | --- | --- | --- | --- | --- |
| HZ 8077 | NV | Sweden | SE | Rum Liqueur | | 26.0% | 700/12 | T Cap | 7350048361131 | 77311180364144 | 14.70 kg |
St. Elizabeth Allspice Dram
Austria ➜ Oberosterreich (Jamaica) 22.5% ABV
22.5% ABV
Allspice is a critical element of tropical drinks and cuisine. The berry, called "pimento" in Jamaica, gets its modern name from its flavors of clove, cinnamon, nutmeg, and pepper. St. Elizabeth Allspice Dram is a traditional preparation made with smoky Jamaican pot-still rum. Famous with bourbon in the Lion's Tail. Use Allspice Dram in rum punches, as the base note of numerous tropical drinks, in mulled wine or the seasoning for sangria. Great with grapefruit or pineapple juice drinks and in coffee. Full details
| SKU | Vintage | Region | Origin | Desc | Cepage | % Alc | Size/Pack | Finish | BTL Barcode | Cs Barcode | Cs Wgt |
| --- | --- | --- | --- | --- | --- | --- | --- | --- | --- | --- | --- |
| HZ 3250 | NV | Jamaica/Austria | AT | Rum Liqueur | | 22.5% | 750/12 | screwcap | 9024153090863 | 9024153090825 | 16.30 kg |
| HZ 3200 | NV | Jamaica/Austria | AT | Rum Liqueur | | 22.5% | 375/12 | T Cap | 9024153090849 | 9024153090818 | 11.40 kg |