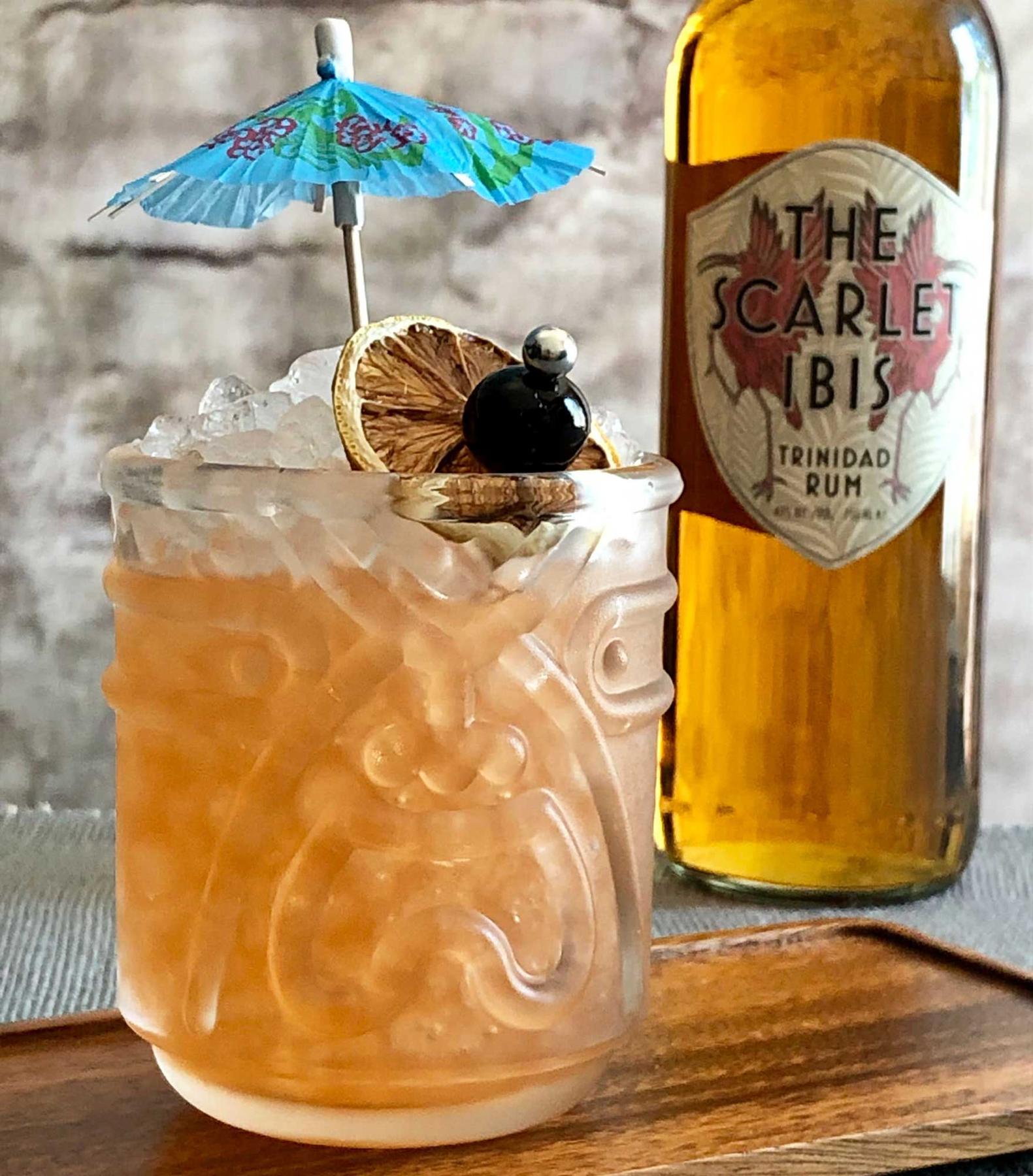 Test Pilot Punch
Shake with ice:
1.5 oz Smith & Cross Traditional Jamaica Rum
0.75 oz The Scarlet Ibis Trinidad Rum
0.75 oz John D. Taylor's Velvet Falernum
0.5 oz orange liqueur
0.5 oz lime juice
2 dash Angostura Bitters
6 dash pastis
Double-strain into a tiki mug.
Fill with crushed ice.
Garnish with a lemon wheel and cherry.
based on a cocktail by Don the Beachcomber

The Scarlet Ibis Trinidad Rum
West Indies ➜ Trinidad 49.0% ABV
49.0% ABV
Scarlet Ibis is a blend of three- to five-year aged Trinidad rums, with classic flavors of toffee, tobacco, and dark honey on a firm, dry backbone. This is old-school rum, without the now-common influence of other wines and spirits, chill filtration, excess dilution, or added sugar. Scarlet Ibis shines in a Corn 'n' Oil, Palmetto (Rum Manhattan), and Mai Tai, as well as in simple sour drinks. This project, named for the national bird of Trinidad, was originally commissioned and blend-selected by Death & Co in New York. Full details
| SKU | Vintage | Region | Origin | Desc | Cepage | % Alc | Size/Pack | Finish | BTL Barcode | Cs Barcode | Cs Wgt |
| --- | --- | --- | --- | --- | --- | --- | --- | --- | --- | --- | --- |
| HZ 8010 | NV | Trinidad | TT | Rum | | 49.0% | 750/12 | screwcap | 9024153090856 | 9024153090849 | 15.60 kg |
Smith & Cross Traditional Jamaica Rum
57.0% ABV
Smith & Cross Jamaica Rum contains only Wedderburn and Plummer pot still distillates, famous for their notes of caramelized banana, exotic fruits and spice and earthy finish. This is old-school rum, without the now-common influence of other wines and spirits, chill filtration, excess dilution, or added sugar. The complexity and flavor depth of this Navy Strength (57%) rum makes it a cornerstone of classic rum drinks, and the best Jamaican rum for providing the richness that punches and Tiki drinks require. The mark of Smith & Cross traces its lineage to 1788 as one of England's most prominent handlers of Jamaica Rum. Full details
| SKU | Vintage | Region | Origin | Desc | Cepage | % Alc | Size/Pack | Finish | BTL Barcode | Cs Barcode | Cs Wgt |
| --- | --- | --- | --- | --- | --- | --- | --- | --- | --- | --- | --- |
| HZ 8050 | NV | Jamaica | JA | Rum | | 57.0% | 750/12 | T Cap | 5021692500949 | 5021692500956 | 14.80 kg |
John D. Taylor's Velvet Falernum
West Indies ➜ Barbados 11.0% ABV
11.0% ABV
Falernum is indigenous to Barbados, where Velvet Falernum is a longtime staple item of its many resorts and bars. The sweetness, spice and almond character of this rum-based liqueur provides weight and texture to classic rum and wine punches. Today, Falernum is a staple for tropical drinks such as swizzles, Zombies, and other Tiki drinks. Try the island favorite with 2 parts aged rum, 3 dashes Angostura and a squeeze of lime. Add to wine and orange juice for a quick, delicious Sangria. John D Taylor's Velvet Falernum is considered by many as the original Falernum, and is today produced by famed rum distiller R.L. Seale Ltd. Full details
| SKU | Vintage | Region | Origin | Desc | Cepage | % Alc | Size/Pack | Finish | BTL Barcode | Cs Barcode | Cs Wgt |
| --- | --- | --- | --- | --- | --- | --- | --- | --- | --- | --- | --- |
| HZ 8020 | NV | Barbados | BB | Rum Liqueur | | 11.0% | 750/12 | screwcap | 724803001056 | 724803001883 | 16.90 kg |