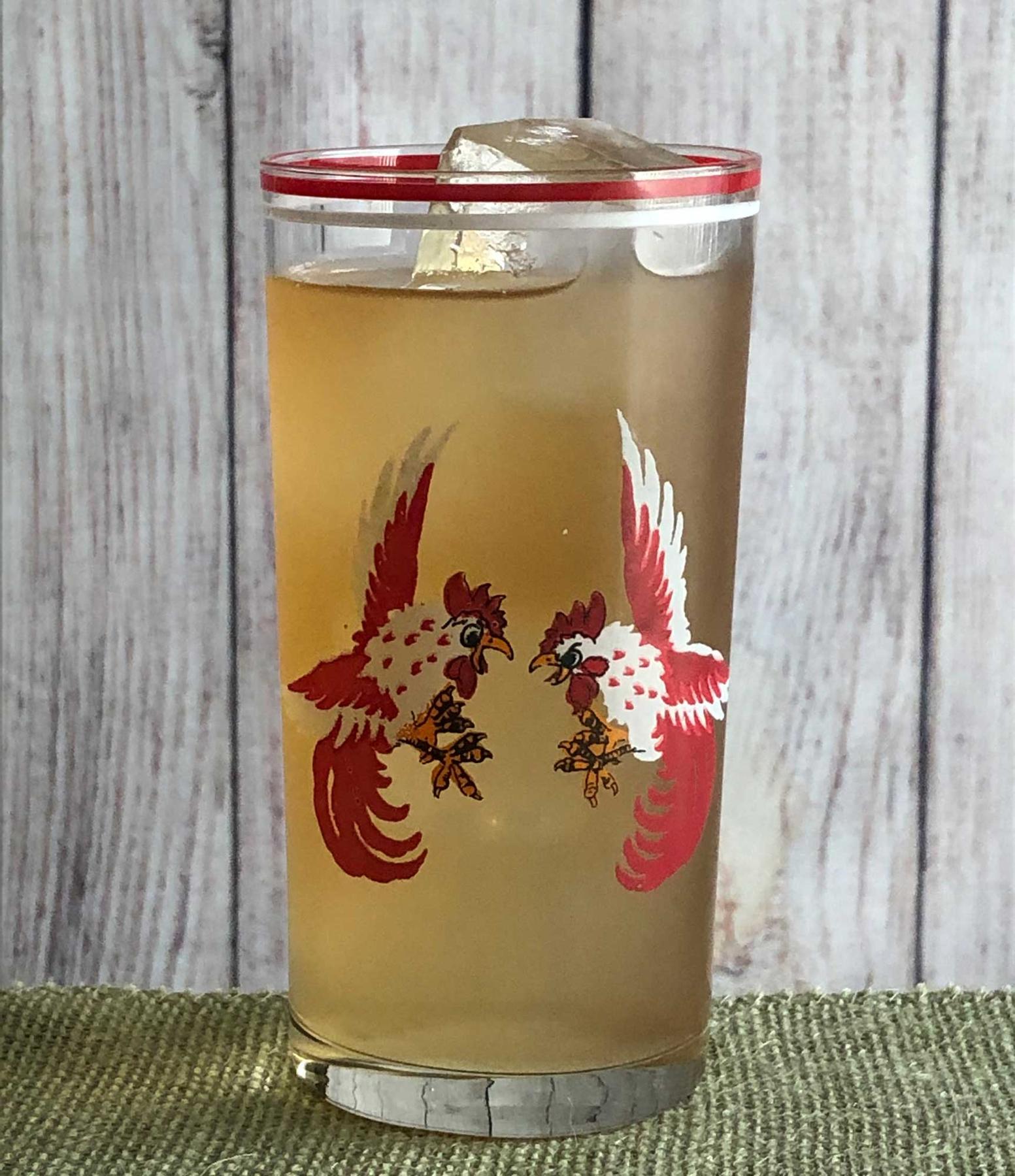 Allsorts Inc.
Prepare a double rocks glass filled with ice.
Combine in a shaker:
1 oz Purkhart Pear Williams Eau-de-Vie
0.75 oz mezcal
0.25 oz blanco tequila
0.75 oz lemon juice
0.5 oz John D. Taylor's Velvet Falernum
0.25 oz St. Elizabeth Allspice Dram
3 dashes orange bitters
Shake with ice.
Strain into the prepared glass.
Rene Hidalgo, Beloved, NYC
Fruit Brandy
Purkhart Pear Williams Eau-de-Vie
Austria ➜ Oberosterreich 40.0% ABV
40.0% ABV
The Purkhart Pear Williams Brandy uses only "Williams" pears from South Tirol (also known as Alto Adige or Südtirol), whose pears are prized for their opulent and creamy ripe fruit fragrance. Lively and stimulating on the palate, this eau-de-vie reveals a depth of pear flavor that carries well into the finish. Made only from distilled pears and water. Enjoy on its own, stir with dry vermouth for a perfumed Martini variation, or make uncommonly aromatic sour cocktails. 100% Reines Destillat Williamsbrand. Full details
| SKU | Vintage | Region | Origin | Desc | Cepage | % Alc | Size/Pack | Finish | BTL Barcode | Cs Barcode | Cs Wgt |
| --- | --- | --- | --- | --- | --- | --- | --- | --- | --- | --- | --- |
| HZ 5050 | NV | Austria | AT | Brandy; Unaged | | 40.0% | 750/12 | screwcap | 9024153031675 | 9024153031682 | 16.30 kg |
| HZ 5000 | NV | Austria | AT | Brandy; Unaged | | 40.0% | 375/12 | T Cap | 9024153031637 | 9024153031602 | 11.40 kg |
Rum/Rum Liqueurs
St. Elizabeth Allspice Dram
Austria ➜ Oberosterreich (Jamaica) 22.5% ABV
22.5% ABV
Allspice is a critical element of tropical drinks and cuisine. The berry, called "pimento" in Jamaica, gets its modern name from its flavors of clove, cinnamon, nutmeg, and pepper. St. Elizabeth Allspice Dram is a traditional preparation made with smoky Jamaican pot-still rum. Famous with bourbon in the Lion's Tail. Use Allspice Dram in rum punches, as the base note of numerous tropical drinks, in mulled wine or the seasoning for sangria. Great with grapefruit or pineapple juice drinks and in coffee. Full details
| SKU | Vintage | Region | Origin | Desc | Cepage | % Alc | Size/Pack | Finish | BTL Barcode | Cs Barcode | Cs Wgt |
| --- | --- | --- | --- | --- | --- | --- | --- | --- | --- | --- | --- |
| HZ 3250 | NV | Jamaica/Austria | AT | Rum Liqueur | | 22.5% | 750/12 | screwcap | 9024153090863 | 9024153090825 | 16.30 kg |
| HZ 3200 | NV | Jamaica/Austria | AT | Rum Liqueur | | 22.5% | 375/12 | T Cap | 9024153090849 | 9024153090818 | 11.40 kg |
John D. Taylor's Velvet Falernum
West Indies ➜ Barbados 11.0% ABV
11.0% ABV
Falernum is indigenous to Barbados, where Velvet Falernum is a longtime staple item of its many resorts and bars. The sweetness, spice and almond character of this rum-based liqueur provides weight and texture to classic rum and wine punches. Today, Falernum is a staple for tropical drinks such as swizzles, Zombies, and other Tiki drinks. Try the island favorite with 2 parts aged rum, 3 dashes Angostura and a squeeze of lime. Add to wine and orange juice for a quick, delicious Sangria. John D Taylor's Velvet Falernum is considered by many as the original Falernum, and is today produced by famed rum distiller R.L. Seale Ltd. Full details
| SKU | Vintage | Region | Origin | Desc | Cepage | % Alc | Size/Pack | Finish | BTL Barcode | Cs Barcode | Cs Wgt |
| --- | --- | --- | --- | --- | --- | --- | --- | --- | --- | --- | --- |
| HZ 8020 | NV | Barbados | BB | Rum Liqueur | | 11.0% | 750/12 | screwcap | 724803001056 | 724803001883 | 16.90 kg |