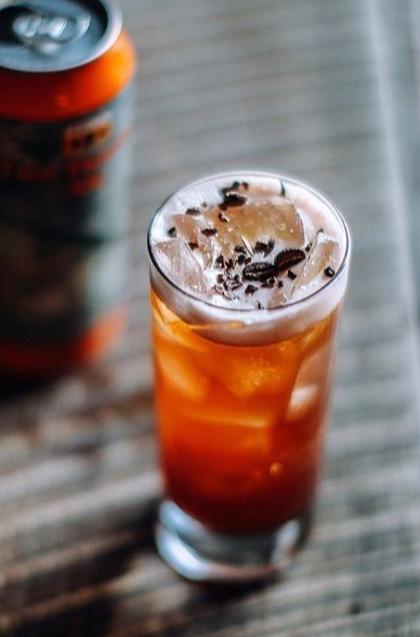 None
Beermüth
Shake with ice:
1.5 oz Byrrh Grand Quinquina
0.5 oz coffee syrup
0.25 oz lemon juice
Strain into an ice-filled collins glass.
Fill with Bell's Two-Hearted IPA (or any "well-rounded IPA with established but not overwhelming hops," says Pierce)
Garnish with cocoa nibs.
For the coffee syrup: combine two parts freshly brewed coffee to one part granulated sugar. Stir until sugar is dissolved. Steep some cocoa nibs in the still-hot syrup for 15 mins. Strain, cool and bottle.
Gavin Pierce, Room 11, Washington D.C.
Byrrh Grand Quinquina
France ➜ Roussillon 18.0% ABV
18.0% ABV
Byrrh Grand Quinquina is made to the original late-19th century recipe that earned worldwide fame and inspired fifty years of evocative poster art. Byrrh combines a generous, port-like wine and mistelle base with a firm backbone of natural quinine to produce a fruity, refreshing aperitif by itself, with tonic and a twist, or paired with blue cheese. In cocktails, Byrrh mixes well with vodka, gin, cognac, tequila, Irish whiskey, and grapefruit. Byrrh is produced in Thuir, in the heart of French Catalan territory, near the coast and border with Spain. Full details
| SKU | Vintage | Region | Origin | Desc | Cepage | % Alc | Size/Pack | Finish | BTL Barcode | Cs Barcode | Cs Wgt |
| --- | --- | --- | --- | --- | --- | --- | --- | --- | --- | --- | --- |
| HZ 9560 | NV | Roussillon | FR | Quinquina/Chinato | Grenache noir, Carignan | 18.0% | 750/12 | screwcap | 630637224359 | 03572831224353 | 17.30 kg |